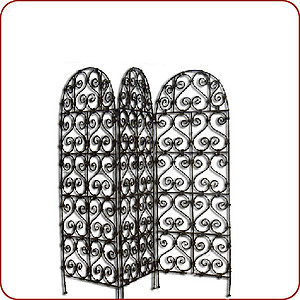 $124.00
Browse our selection of beautifully handcrafted
decorative screens and room dividers
. These
folding room divider screens
are handcrafted and imported from North Africa and Asia. The craftsmanship on these pieces of art is simply breathtaking. Needless to say, the decorative screens and dividers in our selection will make fantastic conversational pieces while adding an air of exoticness to any room.
The wood usually used to create these
folding screens room dividers
are cedar and rosewood. We also have a couple of
wrought iron room dividers
to choose from. Which ever type is chosen, you can be assured they are both beautiful as well as functional.
The sizes of these decorative screens and room dividers vary. However, they stand around 6 feet or 72 inches in height and 50 inches to 80 inches wide when flattened. Some units come with 3 panels and some with 4.